The very first edition of the Charles-Bruneau Cup 2021, a ball field hockey tournament, was held at IGA Stadium on Saturday, September 18. Presented by IGA, this new major event of the Charles-Bruneau Foundation exceeded all expectations by raising $750,000 to give children with cancer in Quebec a better chance of recovery.
During the day, 27 registered teams paid tribute to Charles Bruneau, a great field hockey fan who had a dream that was imbued with a moving message of hope shared by all children fighting to overcome the disease: "When I grow up, I will be cured!" The 300 participants thus experienced a festive and family-oriented event that brought them together and during which they competed in a friendly manner.
The field hockey players exchanged many touching moments with the public personalities on hand: former NHL field hockey players Alain Côté, Stéphane Richer and Steve Bégin, actors Hugo Giroux, Karl Walcott and Simon Pigeon, singer-songwriter Émile Bilodeau, TVA Sports hosts Michel Godbout and Andy Mailly-Pressoir and host Meeker Guerrier. Pierre Bruneau, spokesperson for the Foundation, as well as Louis Jean, ambassador for the event, were also in attendance.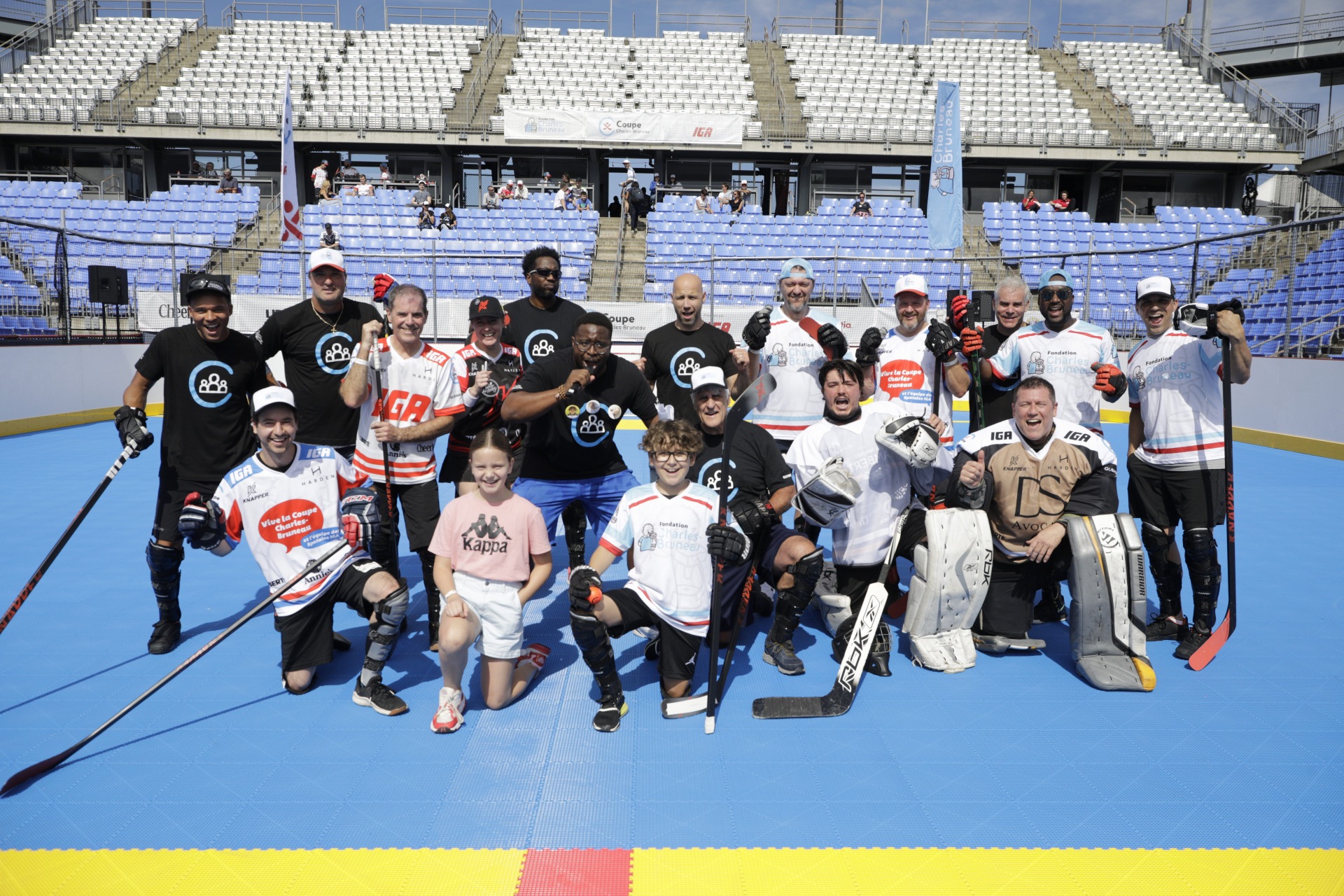 The all-star game. Photo: Lino Cipresso
"The first edition of the Charles-Bruneau Cup was a resounding success because of the commitment of the community and the many sponsors to sick children. Pediatric cancer still affects too many young people. I know this because I was recently hit hard by this reality. Together, we are making a difference, we are increasing the chances of a cure. 750,000 thanks for supporting this important cause," said Louis Jean, proud ambassador of the event.
"What a pleasure to see all the participants of the first edition of the Charles-Bruneau Cup presented by IGA gathered around Charles' great passion! His idols, the Quebec Nordiques players, gave him a lot of hope during his battle with cancer. Hope is what the field hockey players and their donors are offering today to the 2,000 Quebec children with cancer. A special thank you to IGA and all our partners who made this great event possible," said Pierre Bruneau, who was moved to attend this first edition.
"We are pleased to have contributed to the success of the Charles-Bruneau Cup presented by IGA. This event is in line with our vision of community involvement, that of a healthy mind in a healthy body. I would like to thank everyone who attended this event, as well as the Foundation, which is constantly innovating and working for a noble cause, namely to bring a smile and hope to sick children. Thanks to you, we can show once again how much this cause means to us as well," said Pierre St-Laurent, Executive Vice President & Chief Operating Officer, Services Banner, Sobeys Inc.
The Charles-Bruneau Cup presented by IGA - 2021 edition in figures
Amount raised: $750,000
This first edition took place on September 18, 2021
Three categories: intermediate, recreational and mixed
300 participants divided into 27 teams
A celebrity game with former NHL players
3 remarkable young heroes: Jacob (5 years old), Benjamin (13 years old) and Penelope (11 years old)
Thank you to everyone who participated in the great success of this first edition of the Charles-Bruneau Cup presented by IGA! A special thank you to IGA for its invaluable mobilization and to all the partners, volunteers and other stakeholders who participated in some way in the great success of the Charles-Bruneau Cup.